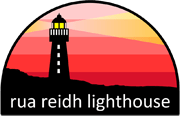 Have you ever dreamed of staying at a lighthouse?
Rua Reidh Lighthouse, near Gairloch in Wester Ross, stands at the entrance to Loch Ewe, at one of the most dramatic and remote locations on the north-west coast of Scotland, with breath-taking views across the Minch to the Isle of Skye, the Shiant Isles and the Outer Hebrides.
Accommodation
STAY WITH US
The guest accommodation at this unique place will appeal to nature lovers who wish to spend a few days relaxing and appreciating the remoteness, the peace and tranquillity, the walking opportunities and the abundant wildlife of this stunning location.
Our gloriously remote and isolated historic Grade B listed building is at the end of a three-mile private track, with the only human habitation visible being a few wee houses way over on the Isle of Skye or the distant lights of the Outer Hebrides on a clear night.
We have a choice of guest rooms, available on a bed, breakfast and evening meal basis. The west end of the building, the First Officer's Quarters, is available to let as a self-catering apartment. Well-behaved dogs are welcome in both the B&B and apartment.
OUR STORY
With no mobile phone signal, wi-fi, or TV in the bedrooms, you have a unique opportunity to leave the trappings of the busy modern world behind for a digital detox, and get away from it all at the edge of the world.
The wildlife around the lighthouse is phenomenal, with whales, dolphins, basking sharks, otters, seals, sea eagles and thousands of seabirds all regularly seen. There are blissful walking opportunities from the lighthouse along spectacular cliffs and deserted beaches. In addition there is the opportunity to see the Northern Lights in our autumn and spring dark skies.
We look forward to welcoming you to this very special place.
OUR LOCATION
OUR GALLERY
Here is a little taster of what to expect... Please note that we are upgrading and refurbishing areas of the building and some images do not yet reflect the improvements.
View All
Availability & Booking
Check availability and prices and book online here: